Hospice Care
What is Hospice?
Gaston Hospice is an award-winning hospice provider, serving Gaston County and surrounding areas. Hospice patients are cared for in both inpatient and outpatient settings, whether that happens to be their home, a family member's home, an assisted living facility or a skilled nursing facility.
Outpatient
Although the home is the traditional setting to provide hospice services, some people are unable to remain at home. Gaston Hospice has established partnerships with most Gaston County nursing facilities/health care centers to provide services. These services include pain and symptom management, education for patients, family and facility staff; social, spiritual and psychological support for residents, family members and facility staff who desire it.
Inpatient
The Robin Johnson House, RJH, is the hospice inpatient unit owned and operated by Gaston Hospice/CaroMont Health located at 5005 Shepherd's Way in Dallas, NC. Constructed and furnished through contributions from our community through individuals, businesses, and foundations.
Robin Johnson House is not a long-term care facility. It is specially designed to meet the symptom management needs of our patients when those symptoms cannot be managed in their homes. RJH patients receive 24-hour care. Care planning begins immediately with the goal of helping families get their loved ones back home as soon as they are ready.
---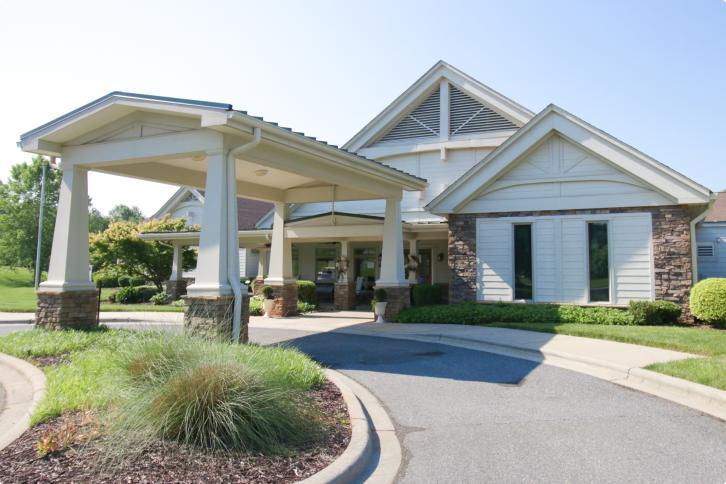 Robin Johnson House
Care Provided at the Robin Johnson House:
Spacious, private rooms with accommodations for a family member to spend the night when necessary
24-hour clinical care by registered nurses and certified nursing assistants
Medications administered by registered nurses
On-site medical social worker
Chaplain and/or grief counselor visits available upon request
Learn More
---
Gaston Hospice Programs
For Gaston Hospice patients who would like more medical attention and personal care, the Robin Johnson House has two specialized programs: Residential Care and Home Away from Home.
Residential Care Program
The Residential Care Program at the Robin Johnson House assists patients who are unable to care for themselves, have limited capacity, no family caregiving resources or a limited prognosis. These patients typically need the most intensive level of care provided in our inpatient hospice facility.
Home Away from Home Program
The Home Away from Home Program is designed to meet the needs of patients with a short life expectancy of one to two weeks. This program benefits patients, families and caregivers by providing a quick transition to a 24-hour hospice inpatient care setting and reduces stress and anxiety surrounding placement at a critical time.