CaroMont Health Kicks Off Construction for New Hospital, Medical Campus in Belmont
This week, CaroMont Health marked the beginning of construction of a new hospital and medical campus in Belmont. Part of CaroMont Health's commitment to invest more than $300 million in new and expanded facilities in and around Gaston County over the next three years, CaroMont Regional Medical Center-Belmont is scheduled to late 2024.
"We are building more than a hospital, more than a medical campus, we are building the future," said Chris Peek, President and CEO of CaroMont Health. "In three short years, this will be the site of so much hope and promise – where new life is welcomed, where patients heal and where the next generation of healthcare professionals find their purpose."
Located off Interstate 85 in Gaston County, the 28-acre medical campus will include a 66-bed hospital (54-acute care beds and 12 observation beds), 16-room emergency department, labor and delivery unit, operating rooms and surgical capabilities, and robust diagnostic testing and imaging services. Also planned is a medical office building and parking deck. Early estimates suggest the hospital alone could create as many as 150 new jobs in the region and see as many as 16,000 patients in the first year.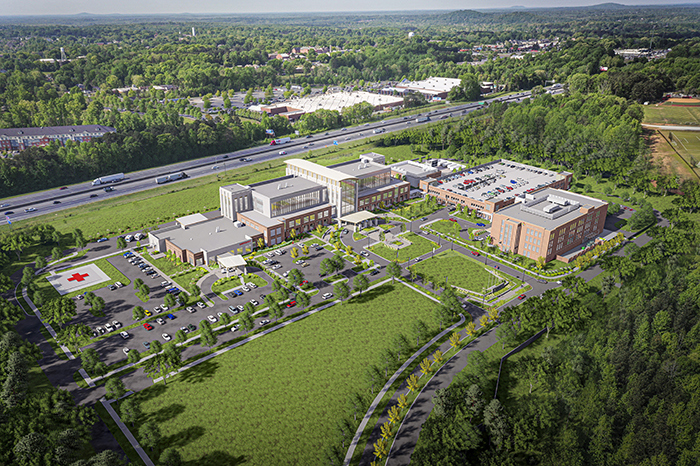 Rendering of CaroMont Regional Medical Center-Belmont
"With the insight and guidance of medical and clinical leadership, CaroMont Regional Medical Center-Belmont has been designed with an intense focus on the patient, both their care and their experience," said Richard Blackburn, Vice President of Facilities and Support Services. "This medical campus, and the hospital that will anchor it, will extend our clinical network to better serve communities in the eastern part of Gaston County and continue to provide exceptional medical care to the region."
In September 2020, CaroMont Health and Belmont Abbey College entered into a long-term partnership to allow CaroMont Health to build the new hospital and medical campus on land owned by the college and monastic community since the late 1800s. The proximity of CaroMont Regional Medical Center-Belmont to the college campus will offer educational opportunities for students in Belmont Abbey College's health science programs.
"Belmont Abbey College exemplifies the true spirit of our community – one of progress, integrity, excellence and virtue – and shares many of our core values," said Peek. "Much like healthcare, education has the unique ability to enrich and support not only the recipient, but all who surround them. A highly regarded institution like Belmont Abbey, focused on the advancement of others, strengthens our community. We are proud to be part of such a historic moment."
Dr. Bill Thierfelder, President of Belmont Abbey College, echoed praise for the partnership.
"Bringing together two remarkable and storied institutions, the partnership between CaroMont Health, a leading healthcare provider, and Belmont Abbey College, a leading institution of higher education, is a game changer for the region and beyond. We are excited about the opportunity to collaborate with CaroMont Health to provide the highest levels of medical care and academic excellence," said Dr. Thierfelder.
In May 2019, CaroMont Health announced plans to build the Belmont hospital, expand critical care services with construction of a four-floor tower at the main hospital in Gastonia, and complete several renovation and expansion projects in its medical group. The more than $300 million commitment was the largest in the history of Gaston County. All projects are aimed at expanding CaroMont Health's clinical network to prepare for anticipated population growth across the region.
"CaroMont Regional Medical Center-Belmont will be home to medical excellence, but more importantly, it will help change and save lives in our community for years to come," said Peek.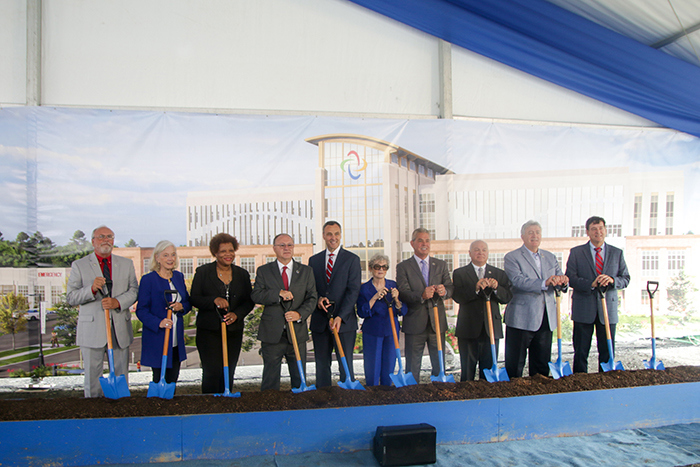 CaroMont Health Board of Directors break ground on CaroMont Regional Medical Center-Belmont