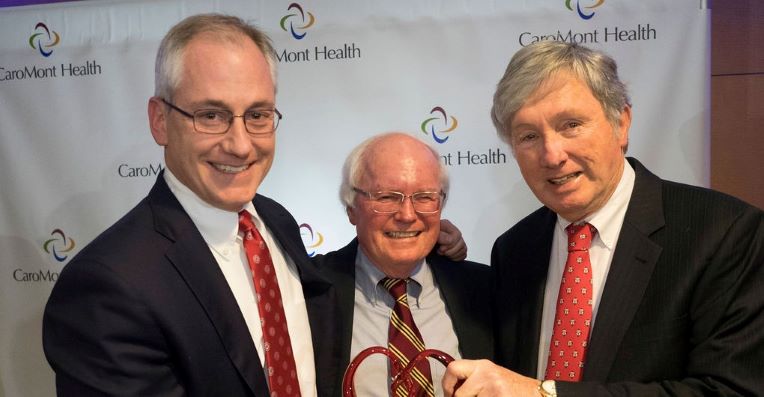 CaroMont Health Receives Grant from David Belk Cannon Foundation
Soon, patients at CaroMont Regional Medical Center will have access to new life-saving cardiac technology in a state-of-the-art setting, made possible by a generous grant from the David Belk Cannon Foundation. The grant supports the creation of a more advanced interventional cardiology program through the construction of a hybrid operating room that combines cutting-edge surgical equipment with advanced medical imaging devices.
The new operating room will allow cardiac surgeons to perform highly-complex, minimally-invasive procedures, such as Transcatheter Aortic Valve Replacement (TAVR), a procedure the health system expects to offer later this spring.
"This grant is a first for CaroMont Health and our Foundation," said Chris Peek, President and CEO of the Gastonia-based health system. "The community-minded focus of the David Belk Cannon Foundation mirrors the mission and vision of CaroMont Health. Their generosity will help bring cutting-edge treatments to our patients."
In recognition of the generous contribution, the Surgery Waiting Lounge at CaroMont Regional Medical Center will be named in honor of three physicians whom the David Belk Cannon Foundation chose for their contributions and commitment to the community. Dr. P. William Aycock, retired internist and gastroenterologist with Gaston Medical Group; Dr. Ronald W. Digby, cardiologist and internist with CaroMont Internal Medicine; and Dr. Dustin P. Letts, cardiologist with CaroMont Heart & Vascular will lend their names to the new Aycock-Digby-Letts Surgery Waiting Lounge.
"These talented physicians have made such an impact on our community," said Gene Matthews, President of the David Belk Cannon Foundation. "They have provided life-saving medicine and life-changing support to so many of our friends, families and neighbors. We are honored to be able to recognize their work and help support the continued advancement of medicine in the region."
The hybrid operating room and the Aycock-Digby-Letts Surgery Waiting Lounge are expected to open later this spring.
About the Physicians
William Aycock, MD
Retired after 42 years with Gaston Medical Group, Dr. William Aycock held board certifications in both internal medicine and gastroenterology. Born in McConnells, SC, Dr. Aycock earned his undergraduate degree from Davidson College and his Medical Degree from the Medical University of South Carolina.
Dr. Aycock served as President of the Gaston County Medical Society in 1989 and as the 148th President of the North Carolina Medical Society in 2002. His commitment to the betterment of patient care led him to serve as a leader in these organized medical societies, a high honor and a testament to his dedication and service as a physician. In addition to his leadership positions in the medical societies, he has also held memberships in many professional societies and local organizations, often serving on various committees to help guide the future of the medical profession.
Dr. Aycock resides in Gastonia with his wife, Mary Ann. In retirement, Dr. Aycock enjoys spending time on his family farm down in McConnells, reading and bible study.
Ronald Digby, MD
Since his arrival in Gastonia in 1977, Dr. Digby has practiced internal medicine and cardiology at the practice he shared with Dr. Aycock, Gaston Medical Group. Before joining the medical staff at then Gaston Memorial Hospital, he sent a letter to the administrator encouraging the hospital to purchase the first equipment for use in cardiology. They agreed and Dr. Digby joined the medical staff as one of the first cardiologists.
Through Dr. Digby's nearly 42 years of practice he has been an advocate for both his patients and the advancement of cardiology practice. He helped guide the future of care in Gaston County and at CaroMont Health through his service as Chair of the Department of Medicine and as Chief of Staff in 1986. Dr. Digby earned CaroMont Health's Physician Recognition by Nurses (PRN) Award in 2017 for his respect of patients, families and staff.
Dr. Digby lives in Gastonia, where he and his wife raised their three children. He recently lost his wife of 52 years, Sandra, and he credits his friends, patients, family and faith for helping him through this difficult time. When not practicing, Dr. Digby is active in his church, Rotary club, the Heart Society of Gaston County; he also enjoys reading and watching Panthers and UGA football.
Dustin Letts, MD, FACC
Since joining CaroMont Heart & Vascular, Dr. Letts has been a champion for cardiology at CaroMont Health. With a keen eye for what is best for his patients, he strives to provide the best medicine and care for every person he encounters. A passion for learning and sharing that knowledge for the betterment of others is what inspired Dr. Letts to go into the medical field and specialize in Cardiology. He earned his Medical Degree from Mercer University School of Medicine in Georgia. His residency and internship brought Dr. Letts to Charlotte, and after finishing his fellowships in Pittsburgh, he returned to Gaston County to begin his practice.
Holding board certifications in both cardiovascular disease and interventional cardiology, Dr. Letts strives to provide the best medicine and care for every patient he sees. He has also been recognized as Best Cardiologist in the Gaston Gazette's Best of Gaston community choice awards in 2015 and 2016.
Dr. Letts lives in Gastonia with his wife Caroline and their three daughters. He has developed a vibrant network of friends and fellow physicians make him proud to call Gaston County home. He is an engaged member of his church and Rotary club, and in his free time, he enjoys running and spending time with his daughters.
About the David Belk Cannon Foundation
The David Belk Cannon Foundation is a private family foundation established by the late David Belk Cannon in 1998.