CaroMont Health Foundation Announces 2023 Wayne F. Shovelin Scholarship Winner
CaroMont Health Foundation today announced that Liana Mattera, a senior at Gaston Christian School, has been awarded the 2023 Wayne F. Shovelin Scholarship. Following an extensive application and interview process, Mattera was chosen to receive a four-year scholarship, worth up to $20,000 each academic year, for undergraduate studies in a healthcare-related field.
"The Wayne F. Shovelin Scholarship is one of the most significant educational contributions provided exclusively to students in Gaston County," explained Mary Grace Bean, Director, CaroMont Health Foundation. "Liana's exceptional academic record played a role in her selection, but her commitment to service, especially working with children, truly demonstrated her valuable contributions to our community. We know Liana will continue to use her talents and abilities to have a positive impact on those around her, and we are proud to support her."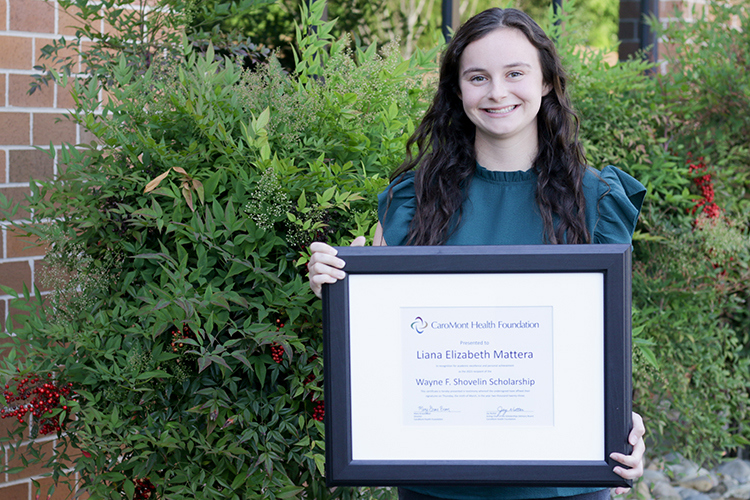 Mattera will graduate in May with a 4.0 GPA after completing a rigorous academic schedule and earning consistent "A" Honor Roll recognition. In addition to Mattera's academic achievements, her extracurricular activities are noteworthy. Mattera plays varsity soccer, serves as president of the Interact Club and tutors elementary and middle school students in both math and English. Through the New Gen Peacebuilders program, Mattera worked with her peers to develop an after-school program promoting literacy. Mattera has a passion for fostering a love of science and technology in children and volunteers in the summer at the Schiele Museum's science camps. She also volunteers with children in the healthcare setting, gaining valuable experience connecting with patients and families. She will attend the University of North Carolina at Chapel Hill this fall and plans to pursue a career in pediatric medicine.
"Members of the Scholarship Advisory Board were struck by all of the applicant's academic records and extracurricular activities," said Jay Nutter, Acting Chair of the CaroMont Health Foundation Scholarships Advisory Board. "Liana's impressive academic record and her work to serve children in our community are truly exceptional. Her ability to connect with and support others will serve her well in her path to pediatric healthcare. We know she has a very bright future."
The Wayne F. Shovelin Scholarship is made possible by a generous donation from the Duke Kimbrell family in honor of long-time CaroMont Health CEO, Wayne Shovelin. In addition to the up to $20,000 each year in support for tuition and fees Mattera will receive, she will also have the opportunity to participate in three paid summer internships at CaroMont Health. These internships offer Shovelin Scholars the opportunity to learn from healthcare professionals within their specific interest areas and gain early exposure to the wide range of careers available in healthcare.
To learn more about the programs and services offered through the CaroMont Health Foundation and how you can help, please visit caromonthealth.org/ foundation.