CaroMont Health's Heart Team Performs Hospital's First Minimally-Invasive Heart Valve Repair
Led by Dr. John Schindler, Dr. Pratik Patel and Dr. James Greelish, a surgical team at CaroMont Regional Medical Center performed the hospital's first transcatheter mitral valve repair on February 21, 2023. Using the MitraClip, the surgeons were able to repair a damaged mitral valve in a patient for whom traditional valve repair surgery was not an option.
Mitral regurgitation is the most common form of heart valve disease. In a healthy heart, blood flows in one direction through the four chambers. When the mitral valve does not close tightly, blood is allowed to flow in the wrong direction from the left ventricle, back into the left atrium. This condition is known as mitral regurgitation. Individuals with this condition experience uncomfortable symptoms such as lightheadedness, shortness of breath and fatigue. If left untreated, the degenerating valve can ultimately result in heart failure.
By using the advanced technology available in CaroMont Regional Medical Center's Hybrid OR, Dr. Schindler and his team implanted the MitraClip device to repair a damaged mitral valve. Because the hybrid OR combines a traditional operating room and cardiac catheterization lab with advanced imaging systems, the procedure performed is minimally invasive, benefitting individuals who may not be good candidates for traditional mitral valve repair and replacement surgery.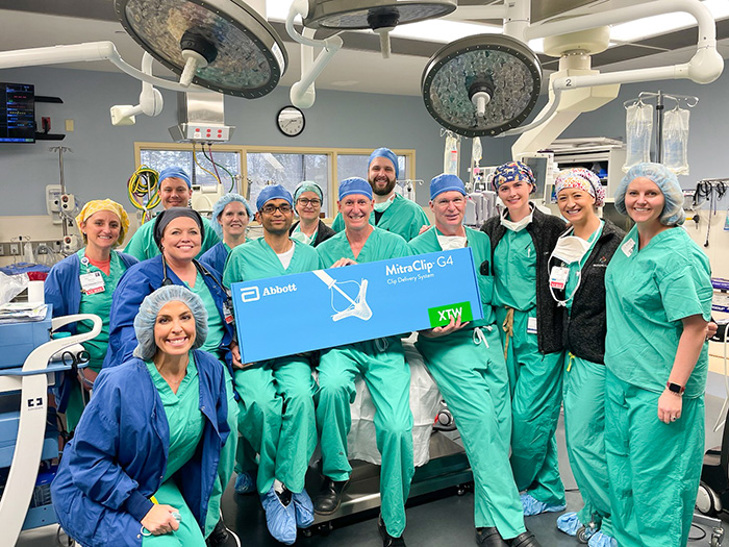 Dr. John Schindler (center) with Dr. Pratik Patel (left) and Dr. James Greelish (right) with their team before the first ever MitraClip procedure in the hybrid OR at CaroMont Regional Medical Center. 
If you suffer from mitral regurgitation, ask your doctor if you may be a good candidate for the MitraClip procedure. Learn more about advanced cardiac care at CaroMont Health here.