Gaston Hospice Memorial Garden Made Possible by Local Non-Profit Group
Last week, leaders and members of the Southern Piedmont Chapter of Compassionate Friends dedicated a new memory garden to patients and families under Gaston Hospice's care. Named the Southern Piedmont Children's Memorial Garden, the project was made possible by Compassionate Friend's fundraising efforts and recently completed on the grounds of the Robin Johnson House. Including over $43,000 of renovations, the new garden is specially designed to immerse visitors in a healing, natural environment paying tribute to lost loved ones. Over 100 memorial bricks were dedicated by Gaston Hospice supporters in memory of children, grandchildren and siblings, adding personalized sentiments of remembrance throughout the 700-square-foot outdoor space.
"This project has come to fruition through years of hard work," said Mary Grace Bean, Director of the CaroMont Health Foundation. "Compassionate Friends has gifted Gaston Hospice more than a garden, but a space that reminds us what is at the heart of both of our organization's missions: caring for and supporting those who are experiencing loss. There is no greater example of empathy than the compassion these friends have shown since this project began in 2021."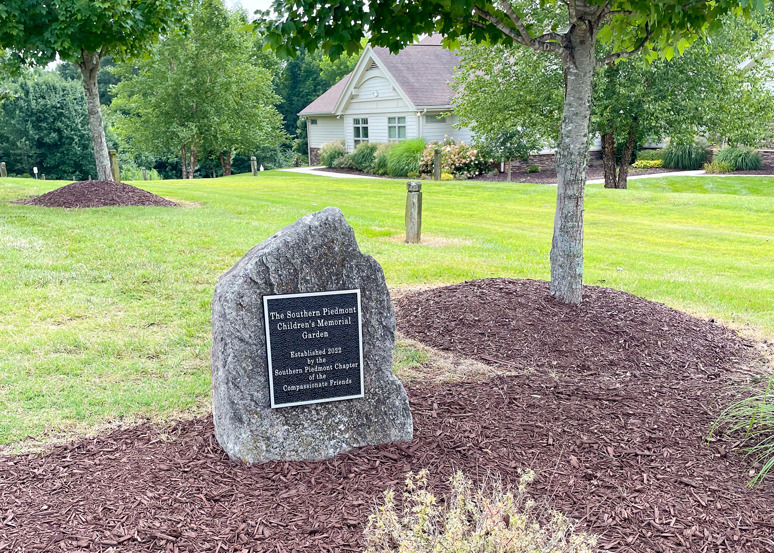 A stone and plaque placed at Robin Johnson House marks the establishment of the new memorial garden made possible by the Southern Piedmont Chapter of the Compassionate Friends.
In addition to the memorial pavers, the grounds now feature a new butterfly garden, populated with perennial plantings and shrubs specifically chosen to attract native species. Custom benches provide sitting space for quiet contemplation while the woodland area offers a shaded path with additional seating areas for meditation and reflection. A bronze sculpture privately donated by Linda T. Sherrill in memory of her son, Michael R. Sherrill, pays special honor to families facing the loss of a child.
"Our organization was founded over 50 years ago by a chaplain, Simon Stephens, who made the connection that those who have experienced the loss of a child provide the strongest support to others who have experienced the same," said Candace Hulsey, Chapter Leader of the Southern Piedmont Chapter of Compassionate Friends. "Our goal with this project was to provide a meaningful and beautiful space for those missing loved ones and a tangible reminder that they do not have to navigate their grief alone."
Bean echoed praise for the project and thanked Compassionate Friends for their years of work and fundraising efforts that made their vision a reality.
"We know this memorial garden, with all of its beautifully considered features and thoughtful additions will provide much comfort to the patients and families that choose this facility," said Bean. "We cannot thank Compassionate Friends enough for their leadership, generosity and kindness. This is a deeply meaningful contribution to the Robin Johnson House that will bring much comfort for many years."
About CaroMont Health Foundation:
The CaroMont Health Foundation provides a vital connection between care and the communities it serves through grants, scholarships, Team CaroMont or other support, the Foundation exists to create a more targeted approach to tackling the present and persisting healthcare issues in our region. All donations directly support programs intentionally designed to improve the lives and health of your neighbors and community.
For additional information, visit: www.caromonthealth.org/foundation
About Compassionate Friends:
The Compassionate Friends (TCF) is a national nonprofit, self-help support organization, offering friendship, understanding, and hope to families grieving the death of a child of any age, from any cause. There is no religious affiliation, and no individual membership fees or dues are charged. All bereaved family members are welcome. Founded in England in 1969, TCF was established in the United States in 1972, with 501(c)(3) not-for-profit incorporation in 1978, under which provision the organization's nearly 600 local Chapters also operate. TCF operates as separate entities in at least 30 countries around the world.
Visit www.compassionatefriends.org or email Candace Hulsey at cdhulsey@gmail.com for more information regarding monthly meetings of the local Compassionate Friends or to include your child, grandchild or sibling in the Southern Piedmont Children's Memorial Garden.