Spotlight on Service: Dr. John Berry's Commitment to Care
This Veteran's Day, and every day, CaroMont Health is proud to celebrate the accomplishments and service of our Veterans like John Berry, Colon and Rectal Surgeon at CaroMont Surgical Associates in Gastonia.
An active-duty Lieutenant Colonel in the U.S. Army, Dr. Berry is currently stationed at Fort Bragg, NC, lending his surgical skills to Veterans, Service members, and their families. Through a Military Skills Agreement, which allows active-duty service members to share time between their military hospitals and hospitals outside the military health system, Dr. Berry spends a portion of his time each week performing advanced colon and rectal cancer resections at CaroMont Regional Medical Center.
As a third-generation service member, Dr. Berry grew up understanding the commitment and dedication required to serve one's country. His grandfather was a member of the U.S. Army Air Corps and then the U.S. Air Force, serving in World War II, Korea, and Vietnam Wars. His father was an electronics specialist on a U.S. Navy Destroyer. For Dr. Berry, making the decision to join the military began with an opportunity for an elite education.
"It was the opportunity for a one-of-a-kind education at West Point that began my military career," Dr. Berry explained. "After graduation, I served as an Armor Cavalry officer, which took me all over the world to places like Iraq, Kosovo, Turkey, Qatar and Egypt. When I began my medical career at Jefferson Medical College in Philadelphia, I was thankful for the strong foundation West Point and my Army service gave me. But it was my training in Trauma Surgery at Brooke Army Medical Center where I really felt like I made a real difference, helping American soldiers wounded in combat get back on their feet and heal after life-altering injuries."
While helping others has been a major motivation for Dr. Berry to continue his military service, he also speaks fondly of close bonds with his fellow Veterans and soldiers as a reward.
"Taking care of my fellow soldiers in combat, patients in forward deployed hospitals, and fellow surgeons in the operating room are the times I value because those relationships are forged in challenging environments," said Dr. Berry. "I like to problem solve, and I like to help find solutions to complex situations. When you and your peers are able rise to a difficult challenge, you form bonds that last a lifetime. For me, that's when lasting friendships are formed."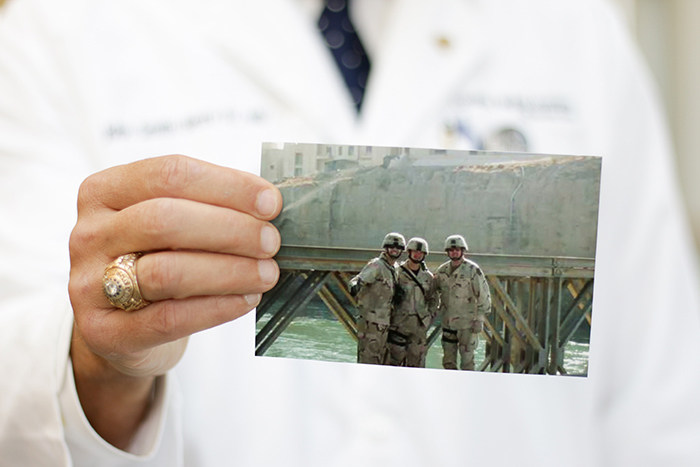 Pictured: Dr. Berry (left) stands overlooking the Tigris River in Tikrit with fellow soldiers Charles Knoll and Kirk Dorr during a 2004 deployment to Iraq.
Dr. Berry has one year of active duty remaining before he retires from military service and looks forward to spending more time with his wife and three children. Like all military families, they have made many sacrifices, especially during his seven deployments to various regions in the Middle East.
"Having spent 28 years in the Army, I know this transition will be a change, but I'm reassured knowing I will still be able to do what I love - helping others during their most challenging times."
Dr. John Berry is a General and Colon and Rectal surgeon at CaroMont Surgical Associates in Gastonia. To learn more about him and the team of talented surgeons at CaroMont Health, please visit caromonthealth.org.