CaroMont Health Opens New Primary and Urgent Care Office in Cherryville
CHERRYVILLE, N.C.— In partnership with the City of Cherryville and the Cherryville Chamber of Commerce, CaroMont Health hosted a ribbon-cutting ceremony to celebrate the grand opening of CaroMont Family Medicine and CaroMont Urgent Care in Cherryville. Located at 910 E. Church Street, the 7,600-square-foot facility will offer a full range of family medicine and primary care services, as well as urgent care. The practice is welcoming new patients.
"Cherryville is and will continue to be a very important part of our care network" said Todd Davis, Executive Vice President and Chief Physician Executive for CaroMont Health. "This project was made possible because of the incredible support provided by city leaders and project partners. From designing a building that optimizes efficiency and supports the patient experience, to selecting a location that offers critical access to roadways and utilities, and most importantly, a central connection point for the many neighborhoods that surround us – this practice was designed with the needs of this community in mind."
The combination of primary care and urgent care is not a new concept for CaroMont Health. This dual model is well established in offices in Gastonia and Dallas. CaroMont Family Medicine will continue to offer primary care services for patients of all ages and CaroMont Urgent Care will offer flexible care options for urgent medical issues. Dr. Rebecca Love, board certified in family medicine, and Billie Jo Dagenhart, nurse practitioner, will lead the highly skilled care team in family medicine, with Mr. Austin Gates, physician assistant, and Kassidy Blanton, Nurse Practitioner opening appointments at CaroMont Urgent Care.
"CaroMont Health has had a home in Cherryville for more than 15 years, but this morning, we celebrate the future – the expansion of primary and urgent care services here and an important connection to CaroMont's network of advanced medical specialties across the region," said Jeff Cash, Chair for the CaroMont Health Board of Directors. "Great healthcare begins in buildings like the one behind me, but truly exceptional care comes from the incredible team of health care professionals who choose to work inside it. We have a talented team of people here. They genuinely care about our community and their patients, and they will always do what is right for you and your family."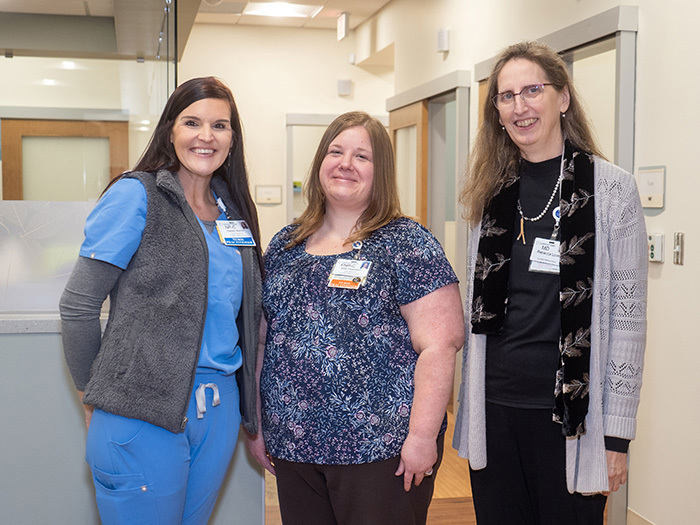 Pictured: Kassidy Blanton, Nurse Practitioner, Billie Jo Dagenhart, Nurse Practitioner and Dr. Rebecca Love will begin seeing patients in the new facility at 901 E. Church Street in Cherryville on December 6, 2022.
The new clinic includes 11 exam rooms, five procedure rooms, and expanded space for reception, waiting and administrative functions. New primary care patients may call the office to request an appointment or visit caromonthealth.org to schedule online, and individuals seeking urgent care for the treatment of minor illness and injuries, like colds, ear infections and sprained ankles, do not need an appointment for urgent care but may make a reservation by visiting caromonthealth.org.
CaroMont Family Medicine in Cherryville will be open Monday through Friday from 8:00 a.m. to 5:00 p.m. CaroMont Urgent Care will be open seven days a week from 8:00 a.m. to 7:30 p.m. To make an appointment please call 704.435.5227.